Covid-19 & Your Visit to the Clarke Theatre.

The Clarke Theatre continues to respond to the Provincial Health Orders, implementing any necessary changes, communicating to user groups affected and addressing issues with the general public if they arise.
Please note these are often changing impacting many aspects of our operation.
Your patience is appreciated as we work through the Orders.

Vaccination Passes (QR Code) are required for all visitors to the Clarke Theatre who are 12 years old and older and Masks are required upon entry for those 5 years and older.

We ask for everyone's patience and understanding as we continue to transition.
---

Here is what is coming to the
​
Clarke Theatre in Mission!
​
---

​The Lovettes

starring in

Leaders of the Pack

February 24th, 2022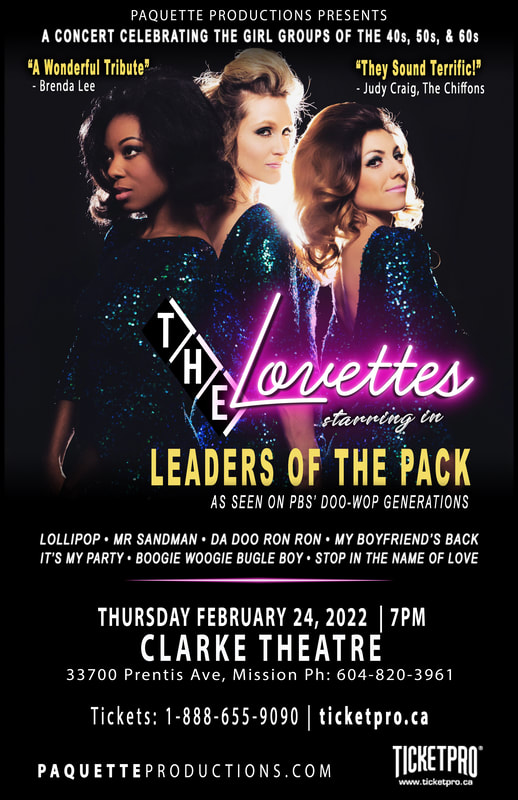 ​Leaders of the Pack

Chicago-based rockers
The Lovettes
celebrate the great girl groups from the golden era of pop in their own show "Leaders Of The Pack "as seen on PBS'
Doo-Wop Generations
. This talented trio's upbeat retrospective of the 40s, 50s, and 60s is jam packed with harmony, dance, and good times. Putting their own twist on icons from The Andrews Sisters to The Supremes, The Lovettes honor the often underestimated power of women who rock. Chart-topping hit songs include "Lollipop," "Mr Sandman," "My Boyfriend's Back," "Da Doo Ron Ron, ""Boogie Woogie Bugle Boy," "Stop in the Name of Love," and more.
Tickets Available at: https://secure.ticketpro.ca/?lang=en#achat_CLK24BN22
or call: 1-888-655-9090
---

​JESSE COOK

Tempest II Tour

Friday, February 25th, 2022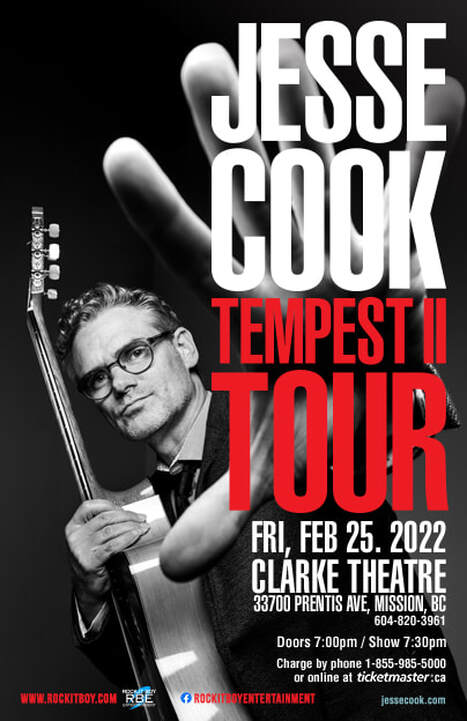 TICKETS ON SALE DECEMBER 10th!
Rock.It Boy Entertainment presents
JESSE COOK - TEMPEST II TOUR
on Friday, February 25, 2022 at the Clarke Theatre, 33700 Prentis Avenue, Mission. Tickets are $49.50 (Plus Facility Fee & Service Charges) available at all Ticketmaster locations. Charge by phone at 1-855-985-5000 or online at
www.ticketmaster.ca
.
JESSE COOK
is an artist that requires no introduction. He has blazed an incredible trail.
With ten
platinum and gold
studio albums; five concert DVDs and live discs; five
PBS specials
;
eleven Juno nominations with one
Juno Award for Best Instrumental Album
("
Free Fall
", 2001); one
Gemini Award
; three
Canadian Smooth Jazz Awards
; one
Acoustic Guitar Magazine Player's Choice Silver Award
;
a wall full of similar accolades; thousands of concerts in dozens of countries; millions of YouTube views and audio streams; countless fans around the globe; and a career that is celebrating its 25th year and counting.
Not a bad legacy for a guy who never planned to release an album!
Regarding the upcoming
TEMPEST II TOUR
, it is perhaps best to relate Jesse's own contemplation of the events of the past year and a half: "Just over a year ago, I was getting ready to begin the Tempest 25 Tour. In honor of the 25th anniversary of "
Tempest
", my first CD. I didn't know it at the time, but there was a larger
and very real storm in our path.
Of course, at this point, the whole world knows what happened next. There was no tour, there were no concerts. And we've all lived through a storm like nothing we've seen before in our lives. For those of you who had tickets from a year ago, thank you for your patience and understanding, as we have been working hard to find the right time to start again. We wanted to be sure that when we did return, everyone would be safe.
And finally, today, after much hard work, I am proud to be launching (or is it relaunching?)
the
TEMPEST TOUR II
, almost 2 years later.
For more about
JESSE COOK
please visit
www.jessecook.com
.
---

​Hell or High Water

Live Music Concert Fundraiser

March 13th, 2022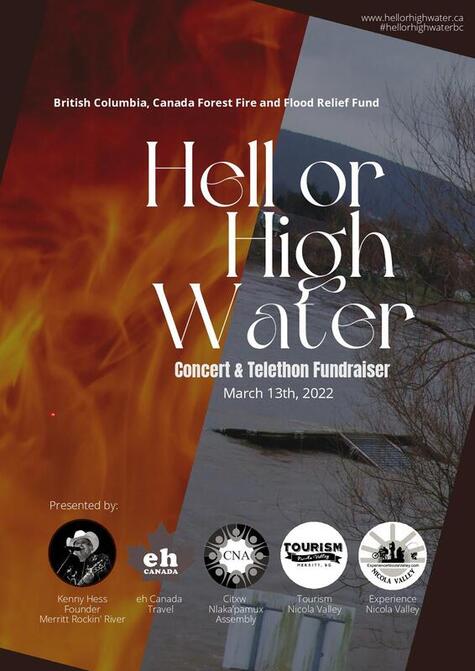 Communities throughout British Columbia, Canada have suffered devastating losses in 2021 due to wildfires and floods. Kenny Hess (Founder of Rockin' River Music Festival), EH Canada Travel Marketing Group, Citxw Nlaka'pamux Assembly (Nooaitch, Coldwater, Shackan, and Cook's Ferry Indian Bands), Tourism Nicola Valley, Experience Nicola Valley and the Merritt Rotray Club have partnered together to organize a fundraiser to support the communities and the people impacted by these fire and flood disasters.
The "Hell or High Water" live music concert is scheduled to take place on March 13th, 2022. Both events will feature musical headliners, celebrity guests, Federal and regional dignitaries, Indigenous artists and many other exciting entertainment for people of all ages. Leading up to the fundraiser will be a line up of "Donation by Contest" prizing opportunities like signed guitars by musicians, tickets to major events,
​holiday vacations, and more.
All proceeds collected, including those made online and through the telethon portion of the event, will go directly to Rotary Merritt who will then work with Rotaries throughout the affected areas to disperse the funds to communities and individuals affected by the natural disasters. Sponsorships of the Live Concert may be partially used to support the event with the rest going directly to Rotary Merritt for dispersal to those in need.
A website
www.hellorhighwater.ca
has been created to collect donations to support the fundraiser and you can follow the conversation at
#hellorhighwaterbc
on selected social media channels.
---

LEGENDS Show

Tributes to Roy Orbison, Connie Francis, Motown, & Elvis Presley

Saturday, March 19th, 2022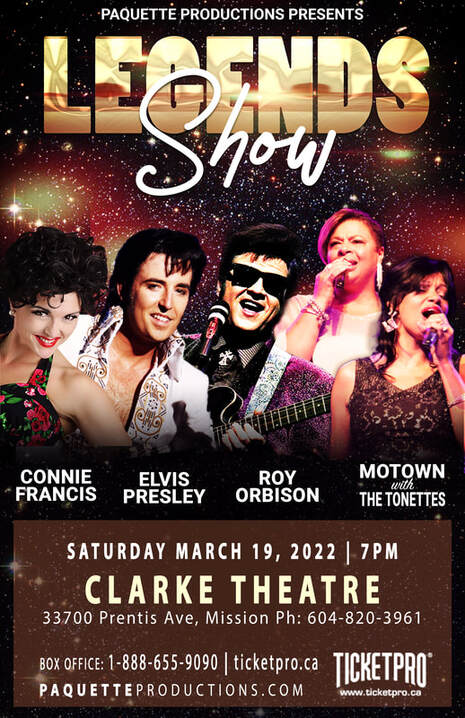 ONE NIGHT ONLY!
"Legends Show"
brings you some of North America's most exciting performers live on stage. Accompanied by the "Rockin' Royals Band", this show will feature the most incredible Tributes to Roy Orbison, Connie Francis, Elvis Presley, and Motown.
Performing as Roy Orbison, Jesse Aron, who hails from the State of Wisconsin, is recognized as one of USA's top Roy Orbison Tribute performers. With his effortless voice and uncanny resemblance to Roy, Jesse will take you back in time with such hits as 'Crying', 'Pretty Woman', 'Only The Lonely', 'Running Scared',
and many more of your favourites.
Canada's Tribute Queen, Amberley Beatty, returns to the stage with her truly remarkable Tribute to American Pop Singing Icon, Connie Francis. Idolized by millions of fans around the world, Francis is best known for her hits such as 'Where the Boys Are', 'Who's Sorry Now', 'Your Cheatin' Heart', 'Stupid Cupid', Lipstick on Your Collar'.
The stars of "Motown Soul", Cathy and Marlene known as The Tonettes, have been blessed with power, sensitivity, and vocal energy. This sensational trio will be performing a variety of songs from the music of Diana Ross and The Supremes, Aretha Franklin and many others. A performance not to be missed.
Pete Paquette is a World-class Elvis Tribute Artist and highly regarded as one of the top Elvis performers in the business today. Known for captivating his audiences through his incredible voice, high energy, charisma, and playful spontaneity with his audiences, this multi-award winning performer will leave you wanting more.
Tickets available at:
ticketpro.ca
or call
1-888-655-9090Link: https://secure.ticketpro.ca/?lang=en&aff=paquetteproductions#achat_CLK19CS22
---

​​ADVISORY

NEW DATE


The Longest 50th Anniversary Tour Ever!

THE LEGENDARY

DOWNCHILD BLUES BAND
with Special Guests

Thursday, August 11, 2022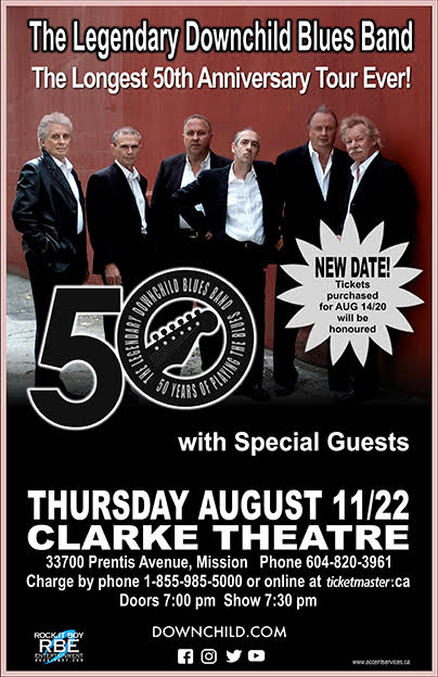 The concert originally scheduled for August 14, 2020
has been rescheduled to August 11, 2022. All tickets purchased for August 14, 2020 ​will be honored for the new date.
Rock.It Boy Entertainment presents
THE LEGENDARY DOWNCHILD BLUES BAND WITH SPECIAL GUESTS
on
Thursday, August 11, 2022
at the Clarke Theatre, 33700 Prentis Avenue, Mission.
Tickets are $52.50 (Plus Facility Fee & Service Charges) available at all Ticketmaster locations.
Charge by phone at 1-855-985-5000 or online at
www.ticketmaster.ca
.
DOWNCHILD ANNOUNCE RELEASE OF 50TH ANNIVERSARY CD "LIVE AT THE TORONTO JAZZ FESTIVAL" featuring special guests Dan Aykroyd, Paul Shaffer, David Wilcox, Kenny Neal, Gene Taylor and Erja Lyytinen.
On June 22, 2019
THE LEGENDARY DOWNCHILD BLUES BAND
shut down Bloor Street West in Toronto to kick off their 50th Anniversary Tour in Canada, with a blues party for the ages at the TD Toronto Jazz Festival, to over 10,000 fans, who packed the street to catch a glimpse of the world renowned band.
To mark the occasion, the band invited along some very special guests to help celebrate including, long-time friend and Hollywood Star Dan Aykroyd, former Letterman bandleader, Paul Shaffer, blues/rock icon David Wilcox, Grammy nominee, Kenny Neal, Gene Taylor (Fabulous Thunderbirds), Peter Jeffrey and
Finland`s Queen of slide guitar Erja Lyytinen.
DOWNCHILD
had a full slate of tour dates throughout the country this spring for the second half of their 50th Anniversary Tour, that was supposed to culminate with a grand finale show on June 22, 2020. Unfortunately, the pandemic hit, and the band had to postpone all their shows until this fall for the safety of fans and
to follow the direction of Heath Canada.
While they cannot perform LIVE right now, the band felt the next best thing they could do was release a LIVE CD to lift fans spirits in this challenging time and give them a live music concert experience. Fortunately, producer, L. Stu Young recorded their historic show in Toronto last summer and was impressed with results when he
listened back to the performance.
"Live At The Toronto Jazz Festival" is set for release on August 14, 2020 and will be exclusively available to purchase NOW through a special PRE-SALE on the band's website at https://downchild.com/store The first 100 fans to buy the CD between June 22 – July 3 will receive a personally autographed copy and will get it in advance of the official release date. With the COVID-19 pandemic causing havoc for all touring Canadian musicians,
DOWNCHILD
will donate $5.00 for every CD sold to the Unison Benevolent Fund in support of their
fellow musicians in these challenging times.
"We are honoured to be able to support a great cause like Unison, that truly takes care of our own, in supporting Canadian artists and Canadian music industry professionals in this difficult time. Like so many people across the country and around the world, the music community has been hit hard by the pandemic."
- Donnie "Mr. Downchild" Walsh
The Unison Benevolent Fund is a non-profit, registered charity that provides counselling and emergency relief services to the Canadian music community. They are there to help professional music-makers in times of hardship, illness, or economic difficulties. For further, information on Unison and they great work they do, please see
https://www.unisonfund.ca/about/mission
2018 Juno Award winners,
THE LEGENDARY DOWNCHILD BLUES BAND
, include some of the most well-respected musicians in the country, who have performed together for over 25 years. Guitarist, harmonica player, leader and co-founder of the band, DONNIE WALSH, lead singer and harmonica player CHUCK JACKSON, PAT CAREY on tenor sax, MIKE FITZPATRICK on drums, GARY KENDALL on bass, and former American super-group rocker MICHAEL FONFARA (of Rhinoceros/Lou Reed fame) on keyboards.
For more about
THE LEGENDARY DOWNCHILD BLUES BAND
visit
downchild.com
.
---

​ADVISORY

NEW DATE


The Barra MacNeils

East Coast Christmas

Saturday, November 19, 2022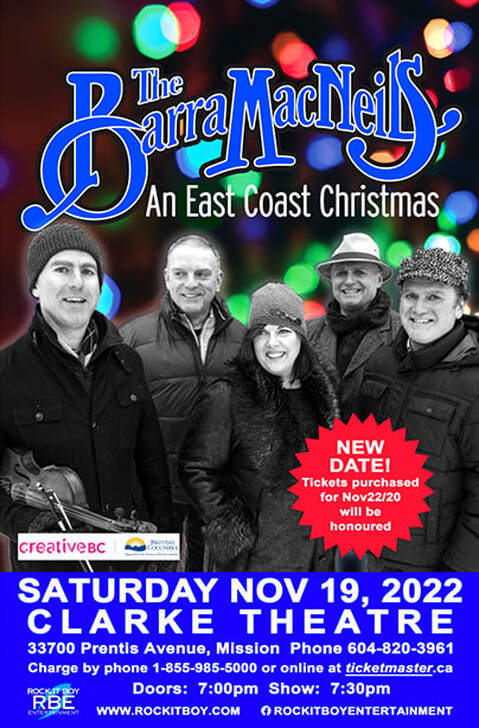 The concert originally scheduled for November 22, 2020 has been rescheduled to November 19, 2022. All tickets purchased for November 22, 2020 will be honoured for the new date.
Rock.It Boy Entertainment presents
The Barra MacNeils East Coast Christmas
on Saturday, November 19, 2022 at the Clarke Theatre, 33700 Prentis Avenue, Mission. Tickets are $47.50 (Plus Facility Fee & Service Charges) available at all Ticketmaster locations. Charge by phone at 1-855-985-5000 or online at
www.ticketmaster.ca
.
One of the most beloved concerts on the seasonal circuit, the
Barra MacNeils East Coast Christmas
features a highly entertaining mix of traditional seasonal fare along with entertaining stories and new musical twists; stamped with their lush harmonies and intricate instrumental stylings. Their show has been touring nationally, as well as in the U.S, for years to sold-out houses. Fans can look forward to classic favourites including: "
O Holy Night
", "
Ave Maria
", "
Christmas in Killarney
" and "
Auld Lang Syne
" as well as some comedy, seasonal stories, music, singing, dance and memories that will extend beyond the season and last a lifetime.
Canada's Celtic ambassadors, Cape Breton-based family group the
Barra MacNeils
are widely regarded as one of the greatest live concert acts in the Celtic world. Their live performance offers a depth of talent that includes multiple lead vocalists, beautiful sibling harmonies, top-drawer instrumental talent on a wide variety of acoustic, stringed, percussion and wind instruments blended with dancing, storytelling, humour and Gaelic songs. It is family entertainment at the highest level.
Steeped in Cape Breton tradition with strong Celtic roots and musical artistry, this diverse and talented family group continues to wow audiences around the world. They were nominated for
PEI`s Fan`s Choice Award for Entertainers of the year
(2014). They continue to perform to sold out audiences throughout Canada, the USA, the Caribbean, and the United Kingdom.
For more about
The Barra MacNeils
visit:
www.barramacneils.com
.