Here's what is coming to the Clarke Theatre...
---
​An Arts Club Theatre Company presentation

The Firehall Arts Centre production of

CIRCLE GAME
Created & directed by Andrew Cohen & Anna Kuman

February 17 - 7:30pm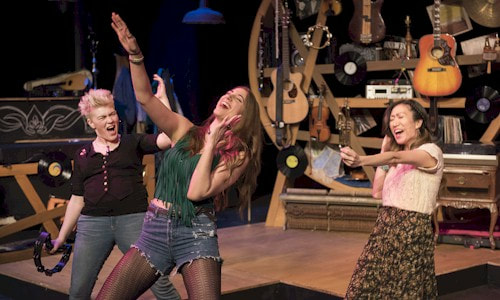 REIMAGINING THE MUSIC OF JONI MITCHELL
One of the most influential recording artists of the late 20th century, Joni Mitchell has often reflected on social and environmental ideals through her music. Circle Game reinterprets Mitchell's iconic songs such as "Big Yellow Taxi," "River," "California," and "A Case of You" through the ears and eyes of a new generation, connecting to the politics and world we know today.
"Circle Game is perfection" —Vancouver Presents
Winner of the 2017 Ovation Awards for Outstanding Professional Production and Outstanding Music Direction
Info and Tickets at
www.artsclub.com/shows/on-tour/2018-2019/circle-game
---
Selfless Documentary Screening
Hosted by Fresh Independence Productions

Tuesday, 12 February - 19:00-22:00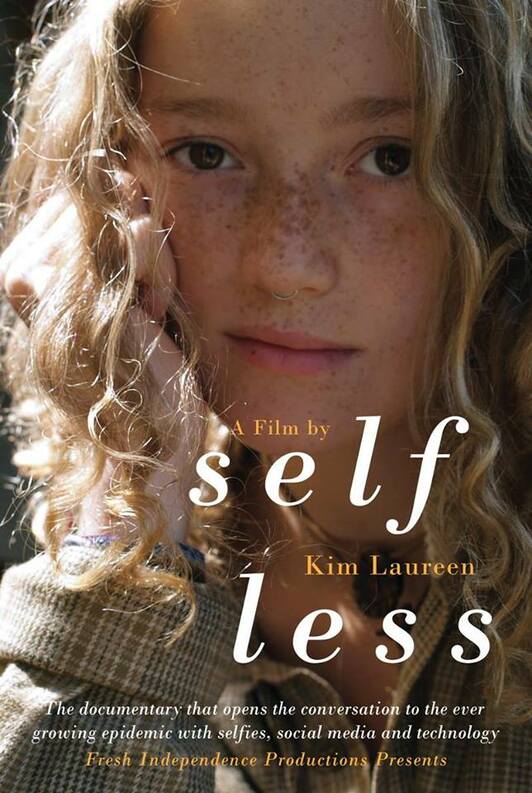 ---
The Beating Heart of The Heartland

DOC WALKER
ACOUSTIC SONGS AND STORIES FROM THE HEARTLAND

Monday, February 18, 2019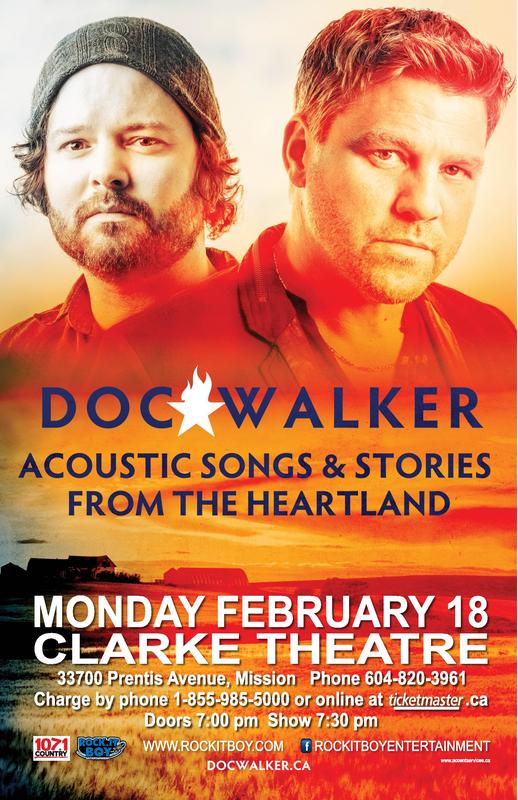 ​
Rock.It Boy Entertainment and Today's Best Country 107.1 FM present DOC WALKER - ACOUSTIC SONGS AND STORIES FROM THE HEARTLAND on Monday, February 18 at the Clarke Theatre, 33700 Prentis Avenue, Mission. Tickets are $45.00 (Plus Facility Fee & Service Charges) available at all Ticketmaster locations. Charge by phone at 1-855-955-5000 or online at www.ticketmaster.ca.
Country legends DOC WALKER released their ninth studio album "Weathervane" March 31, 2017. This is the album the band always wanted to make. They do not set out in a specific direction when writing for an album. Rather, much like a weathervane, they write, write, and re-write, holding a licked finger to the wind to see if they are on the right track. '"Weathervane" is, to me, a reflection of the amazingly crazy life I've lived. I've seen Canada from coast to coast many times staring out the windows of vans, old buses, new buses, trains and planes, and every time I'm shocked by the beauty of our country, but my heart has always been in the Prairies," says lead singer, Chris Thorsteinson.
The first single, "Heart of the Heartland", pays homage to small town pride across the country. the song was inspired by hometown pride, fond memories of youth and continuing to find new inspiration in one's roots, in this case, Portage la Prairie, Manitoba and Winnipeg, which has long been home for bandmates Dave Wasyliw and Chris Thorsteinson. "'Heart of the Heartland' is about all of the lives that were lived, and all of the memories that were created in a now dying town; one man's connection to the broken concrete and dilapidated structures that harbour the ghosts of his entire childhood, and his unshakable hometown pride", says bandmate Dave Wasyliw.
With over 20 Top 10 singles in total, DOC WALKER is one of the most recognized Canadian country acts of the past two decades. The group has received multiple Canadian Country Music Awards, including Fans' Choice (2008), Group or Duo of the Year (2002, 2003, 2004, 2008, 2009, 2010), CMT Video of the Year (2008), Single of the Year (2008), and Country Music Program or Special of the Year. In addition, DOC WALKER has been nominated for several JUNO Awards for Country Album of the Year, including a win for the album "Beautiful Life" (2009).
For more about DOC WALKER please visit:
www.docwalker.ca
.
---
Relive the magic of a Legend!

QUEEN NATION

A TRIBUTE TO THE MUSIC OF QUEEN

Friday, February 22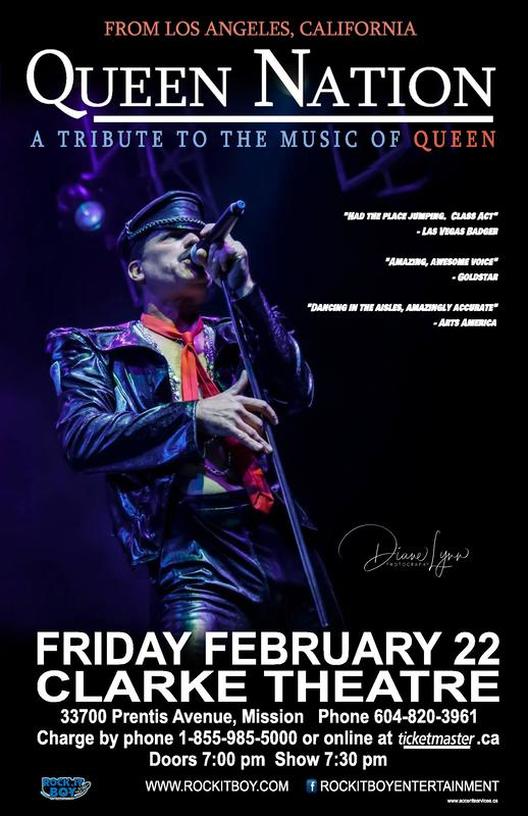 Rock.It Boy Entertainment presents
QUEEN NATION - A TRIBUTE TO THE MUSIC OF QUEEN
on Friday, February 22 at the Clarke Theatre, 33700 Prentis Avenue, Mission. Tickets are $47.50 (Plus Facility Fee & Service Charges) available at all Ticketmaster locations. Charge by phone at 1-855-955-5000 or online at
www.ticketmaster.ca.
Among pure rock enthusiasts the legendary band
Queen
, with front man
Freddie Mercury
, reigns as one of the most powerful and iconic groups in history.
The Kings of Arena Rock
performed to packed stadiums around the globe for more than two decades. Freddie took showmanship to a new, untapped level and was crowned, undisputedly,
The Lord of Arena Rock
. He mesmerized audiences with his charismatic energy and larger than life persona as he delivered powerhouse vocals on "
We Will Rock You
", "
Bohemian Rhapsody
", "
We Are The Champions
", "
Crazy Little Thing Called Love
", "
You're My Best Friend
", "
Another One Bites The Dust
", "
Under Pressure
" and many more. His death in 1991 left a huge void which, to this day, remains un-filled.
QUEEN NATION
was formed in 2004 to carry the musical torch and pay homage to the golden age of vintage Queen concerts.
Queen Nation
consists of:
Gregory Finsley
on vocals & keyboards as
Freddie Mercury
,
Mike McManus
on guitar as
Brian May
,
Pete Burke
on drums as
Roger Taylor
, and
Parker Combs
on bass as
John Deacon
. The Band's 90-minute production of Queen's greatest hits preserves the image, sound, and stage persona of vintage Queen.
Audiences are amazed at the accuracy of
QUEEN NATION
's live retrospective journey.
Irena Jacoson, Arts America
, states, "
The performance was entertaining and theatrical, and all four performers were very good musicians. During the concert two large screens displayed album covers, concert photos and photo shoots from the original band. Rock history lesson indeed! My children ages 11 and 8 both enjoyed the show, the music, and the bead necklaces thrown to the audience. People were dancing in the aisles, and this show really catered to all ages. Most importantly the music was amazingly accurate; if I had not been sitting close enough to know better, I would have sworn it was lip-synced
".
For more about
QUEEN NATION
visit:
www.queennation.com
.​
---
MSS Roadrunner Musical Theatre Proudly presents

GREASE

February 28 - March 2, 2019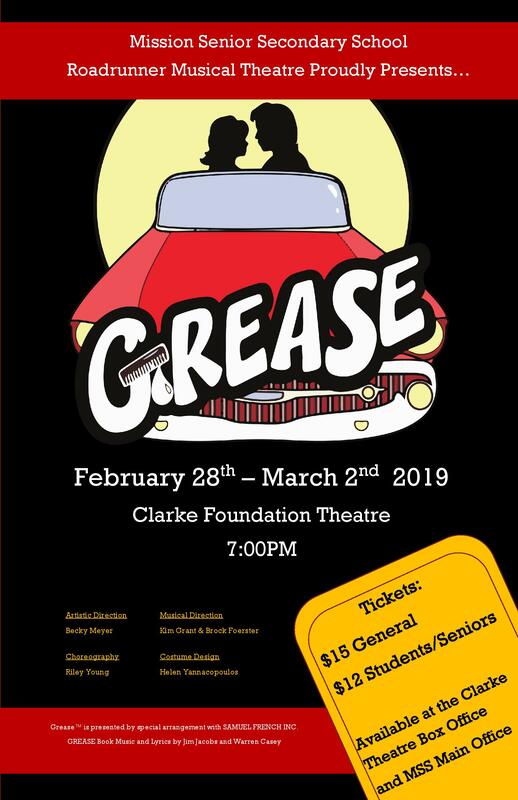 ---
Relive the Music
50's & 60's Rock N' Roll

April 13, 2019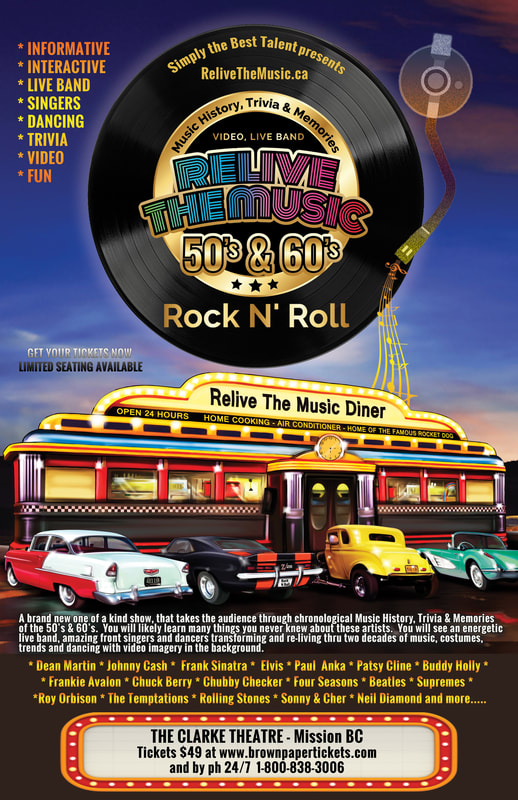 A brand new one of a kind show that takes the audience through chronological Music History, Trivia & Memories of the 50's & 60's. You will likely learn many things you never knew about these artists. You will see an energetic live band, amazing front singers and dancers transforming and re-living thru two decades of music, costumes, trends and dancing with video imagery in the background.
The audience will see silhouettes of a band onstage, video will roll in the background with singers narrating trivia about the upcoming artists prior to each song without mentioning the names. There will be a pause. The audience is encouraged to shout out their guess of what song is coming up. The song starts, the crowd cheers with "oohs" and "ahhs" as some got it right and some got it wrong and others go "Wow, I didn't know that". A very interactive show. Be ready to go onstage to join the dancers at times.
We sorted through 20 years of over a thousand songs into one – 100 minute show. The main criteria was to trim it to hit songs that are still relevant and memorable to this day. We made our pick of songs that we feel will never get old.
Hit songs by Patti Page, Dean Martin, Johnny Cash, Fats Domino, Frank Sinatra, Little Richard, The Platters, Bill Haley and the Comets, Elvis, Paul Anka, Patsy Cline, Jerry Lee Lewis, Ritchie Valens, Buddy Holly, Ricky Nelson, Chuck Berry, Chubby Checker, Dion, The Four Seasons, The Beatles, Roy Orbison, The Temptations, The Supremes, The Rolling Stones, Sonny and Cher, Neil Diamond, The Beach Boys, James Brown and more….
The cast of Relive the Music features World Champion Luisa Marshall as seen on Oprah and ELLEN ( but performing as herself not Tina Turner) and 4 to 5 more carefully chosen male and female frontline singers that perform throughout the show. Although, the show isn't designed to be a tribute show as such, there may be special Tribute guests appearing at times and the cast will be making costume changes during the show to convey the look and feel of artists in each era. The Luisa Marshall Show band will be performing throughout. It's all about the great music, dance and trivia of that era.
The grandparents and great grandparents of today that grew up in this era should bring along their children, grandchildren and great grandchildren to see how cool they really were back then, how great the music and dance moves were and not to forget the fantastic cars back then. You will have to explain to these younguns a few things like what a 45 record is, A side, B side, and that there was no such thing as a cell phone. Tell them why you hung around a place called "The Diner". Did we mention the fantastic cars of that time? Yes back to cars. What car do you wish you still have today?
We encourage the audience to come dressed in the 50's or 60's outfit they most loved.
If there are any local dance groups that can dance 50's style let us know we might get them onstage.
Hope to see you cheering for your favourite years of music.
Hope to see you cheering for your favorite years of music.
See more
www.ReliveTheMusic.ca
Regular price: $49 at
https://www.brownpapertickets.com/event/4053800
or phone 24/7 to 1-800-838-3006. Your name will be at will call at the theatre.
---
The Hilarious Celebration of
Women & The Change!

Menopause The Musical

Thursday, April 18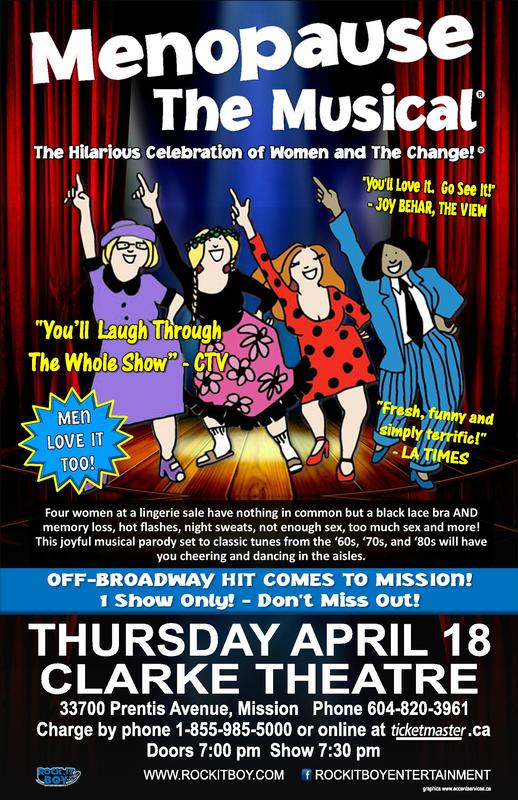 The Off-Broadway Sensation featuring Original All-Star Canadian Cast!
Rock.It Boy Entertainment presents
Menopause The Musical®
on Thursday, April 18 at the Clarke Theatre, 33700 Prentis Avenue, Mission. Tickets are $65 and $55.00 (Plus Facility Fee & Service Charges) available at all Ticketmaster locations. Charge by phone at 1-855-985-5000 or online at
www.ticketmaster.ca.
Menopause The Musical®
, now in its seventeenth year of production, is recognized as the longest-running scripted production in Las Vegas. This original Off-Broadway musical comedy is set in a department store where four women meet by chance while shopping for a black lace bra. After noticing unmistakable similarities with one another, the all-female, all-star Canadian cast joke about their woeful hot flashes, mood swings, wrinkles, weight gain, memory loss, too much sex, not enough sex and more. These women form a sisterhood and a unique bond with the audience as they rejoice in celebrating that Menopause is not "
The Silent Passage
" anymore!
The laugh out loud, 90-minute production, gets audiences out of their seats and singing along to brilliant parodies from 25 classic hit songs from the '60s, '70s and '80s. The hilarious musical has been seen by millions and entertained audiences across the world. The show plays to consistently sold-out crowds from coast to coast, receiving standing ovations every night! Come see what millions of women worldwide have been laughing, cheering and raving about!
For more about
Menopause The Musical®
visit:
www.menopausethemusical.com
.